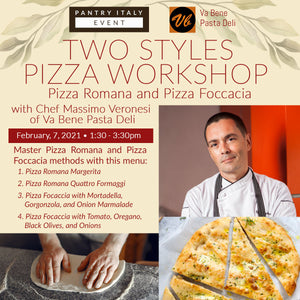 Get a pizzeria experience as if you were in Roma with these two styles of pizza: Pizza Romana comes in rectangular slices, and has a thicker base and is crispier than Neapolitan pizza, while Pizza foccacia is made with foccacia dough. This menu will definitely amp up your pizza repertoire.
1. PIZZA ROMANA MARGERITA 
2. PIZZA ROMANA QUATTRO FORMAGGI 
3. PIZZA FOCACCIA WITH MORTADELLA, GORGONZOLA, ONION MARMALADE 
4. PIZZA FOCACCIA WITH TOMATO, OREGANO, BLACK OLIVES, ONIONS
The workshop will be led by Chef Massimo Veronesi of Va Bene Pasta deli via Zoom on Feb. 7,2021 from 1:30-3:30pm. Chef Massimo will be leading the workshop online from his home. 
The following are included in the workshop fee:
 • 100g mortadella
 • 100g gorgonzola
 • 200g mozzarella fresca
 • 100g provolone
 • 100g parmesan
 • balsamic glaze
 • pizza flour 1kg

Participants shall take care of courier fee for delivery and will provide other ingredients (tomatoes, salt, yeast, onion, olive oil, oregano, basil, olives optional) needed. Join now to secure a slot as we have limited slots only! We will be sending recipes once registration is confirmed.

Note: There is pre work for the pizza dough as it needs to sit before workshop day. 
Grazie!