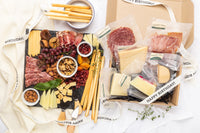 Cheeseboards
There's something about cheeseboards that make any event feel more special, whether it's a quick catch up with friends, celebrations with family, or even a date night at home. Besides, who doesn't love cheese? From cheeses, cold cuts, dried fruits, nuts, crackers, chocolates, and jam pairings, we have everything you need so you can prepare the ultimate cheeseboard for the next event you'll host at home. 
Shop now
PIZZA, PASTA & MORE
Tired of your usual menu? Get ingredients to whip up all types of al dente pasta, cheesy gooey pizza, tasty Italian subs, delicious antipastos, and sweet endings to your meals. Surprise the family with a new dish or an old recipe with a twist on your dining table.
Make your Italian cuisine authentic.
WINES & APERATIVO
We all need an aperitivo--a drink at the end of a long work day and as a warm-up to dinner. Or wine o'clock can be after dinner, when you make great conversations over a bottle of wine. Or three. There's always a reason to unwind and celebrate with a glass of wine everyday. From your classic reds, crisp whites, sweet sparkling wines, and apertif mixes, we got you covered.