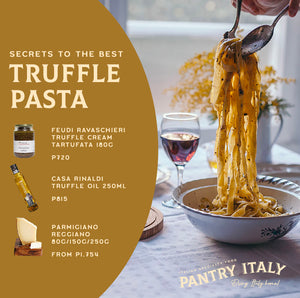 To make the best Truffle pasta,  use Truffle cream when cooking your sauce, and  Truffle oil as a finishing oil, for some major truffle power. Complement with shaved or grated Parmigiano Reggiano, and get lost in the creamy umami flavors of this dish. A little goes a long way for your Truffle cream and Truffle oil so make this dish a menu staple. Order your premium pasta ingredients now! Kit inclusions: 
Feudi Ravaschieri Tartufata  (good for about 5 recipes)
Casa Rinaldi Truffle Oil 250ml or Olio Luglio Truffle oil 250ml 

(good for about 10 recipes)

Parmigiano Reggiano or Grana Padano DOP 80g
Tagliatelle pasta Granoro 500g
The kit is good for at least 2 recipes. Each recipe is good for 4 pax. The truffle sauce and truffle oil are good for long-term use. 
Delicious Truffle Tagliatelle Recipe inspired by travellingoven.com
INGREDIENTS
250 grams Granoro tagliatelle pasta
55 grams Cavani Truffle Sauce
1 tbsp butter 
2 tbsp pasta water (water from the pot where pasta is cooking)
2 heaped tbsp grated Parmigiano Reggiano
Casa Rinaldi Truffle oil or olio luglio truffle oil
PREPARATION
Bring water to boil, add salt and add pasta. Cook following package instructions.
Melt the butter in a large saucepan, add ready black truffle

 

sauce, 2 tbsp of pasta water, and stir to combine.
When cooked, drain pasta. Add pasta to the saucepan, add the Parmigiano Reggiano and stir well to combine. 
Drizzle with Truffle oil as finishing oil and add more grated cheese.