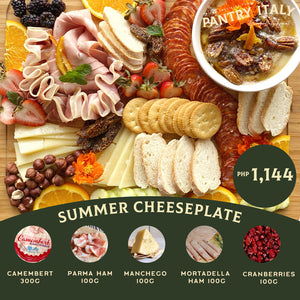 Summer in July? When you make your own cheeseboard, anything is possible. Make a fresh, creamy, light cheeseboard with our Summer Cheeseboard kit including:
Brie (Paturages) 80g

Manchego Curado 80g

Prosciutto Crudo 80g

Mortadella Ham 80g

US Cranberries

100g
Bake your Camembert with cranberries and nuts, add fresh fruits as fillers, and make your cheeseboard taste like summer.