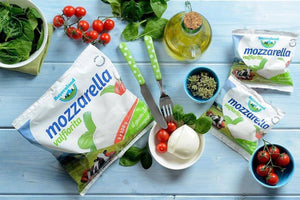 Made from Buffalo's milk, it is creamier and spongier than regular mozzarella. It adds more flavor to your pastas, sandwiches, and definitely a staple on your pizza. Use for any pizza, lasagna, and your caprese salad.
Brand: Bayernland
Milk source: Cow
Country of Origin: Italy
Texture: Fresh, semi soft
Color: White
Age: None
Storage: Store in the refrigerator, to be consumed within 1 week of delivery. Once opened should be eaten soon as possible.
Substitues: Fresh mozzarella is unique and difficult to substitute. When cooking, however,
a lower moisture mozzarella such as mozzarella for pizza, or another mild melting cheese
such as provolone are options, but their flavors will not be identical.