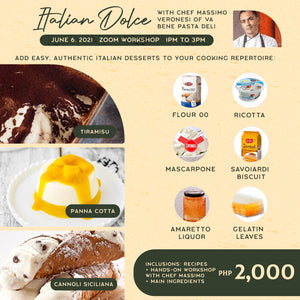 Add easy, authentic Italian desserts to your cooking repertoire. This Zoom workshop on June 6, 2021 from 1 to 3pm, is a hands-on, cook-along workshop with Chef Massimo, where he will share exclusive recipes, coach you on your techniques, give tips, and answer any questions you might have. You can also opt to just watch and create the dishes after the workshop. The workshop includes main ingredients of the recipe namely:
Flour 00
Ricotta 250g
Mascarpone 500g
Savoiardi lady fingers
Amaretto Liquor
Gelatin leaves
You will have to provide the following at home:
Cooking cr

eam 400g (any brand)

Sugar 145g 

Full cream milk 100ml

Oranges 2 to 3 pcs

Mango 3 pcs

Mango puree optional

Butter 10g

Eggs 6pcs

Lemon 1pc

Cinnamon

Powdered Sugar 140g

Chocolate 200g (any brand)

Cocoa powder 30g (any brand)

Coffee 250ml (any brand)

Marsala/Sweet Vermouth or any white wine 30g 

Cannoli Mold 3-4 pcs (available in shoppee or add P100 so we can buy for you)
We will be sending ingredients (free delivery in Metro Manila) and zoom details a few days before the workshop. DM us for any questions. Registration closes on May 31, 2021 or earlier if all slots are taken before then. Grazie Mille!