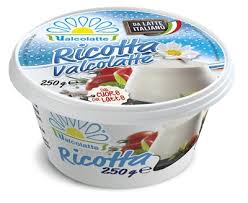 This fluffy creamy white cheese is slightly sweet, similar to cottage cheese but lighter. This fresh cheese can be used for Ricotta pancakes, paired with any fruit for instant dessert, and pasta fillings for lasanlgna, canneloni, ravioli etc.
Brand: Valcolatte
Milk source: Cow
Country of Origin: Italy
Texture: Soft, moist
Color: White
Age: None
Storage: Store in the refrigerator. Once opened keep refrigerated and consume within 1 week. Can be safely frozen for up to 6 months, though it may affect the texture and flavor.
Substitutes: Cream cheese, Cottage cheese