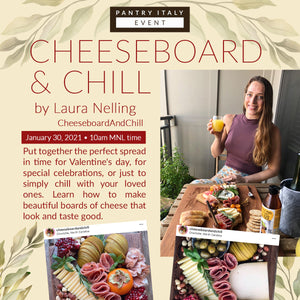 Put together the perfect spread in time for Valentine's day, for special celebrations, or just to simply chill with your loved ones. Learn how to make beautiful boards of cheese that look and taste good.

Based in North Carolina, Laura Nelling is the creator of the popular Instagram account @CheeseboardAndChill where she spreads her love for bringing people together around big beautiful boards of cheese. She hopes to take the intimidation out of building a cheeseboard by sharing her method for putting together the perfect spread. Her account has been featured on the entertainment website Refinery29 and she teaches how to build cheese boards in live and virtual workshops.

The class + cold cuts and cheeses include the following:
Brie 100g, Gruyere 100g, Grana padano 100g, Salami napoli 100g, Proscuitto crudo (parma ham) 100g.
If you are opting for class only, you may purchase your own cheeses and cold cuts as recommended in the grocery list.