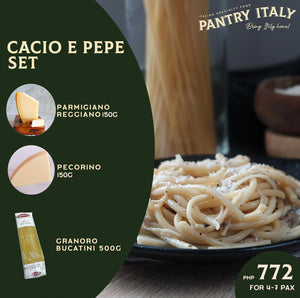 This "cheese and pepper" pasta is a simple, authentic Roman classic recipe. It's creamy, salty, sharp, peppery all at the same time. A sure hit at the dinner table and perfectly paired with steaks, roasted chicken, and other meats. 
Serves 4 to 7 pax

150g of Parmigiano Reggiano DOP
150g of Pecorino DOP
500g Granoro Bucatini
It includes DOP (Protected Designated Origin) cheeses, and traditional, natural Italian pasta made of durum wheat so you can make Cacio e Pepe like the Romans do! Enjoy its creamy saucy pasta soaked up by Bucatini, a thick spaghetti with a hole in the center. We'll send a recipe when you order. Nail your first time with the recipe using premium, authentic Italian ingredients. Bring Italy home.