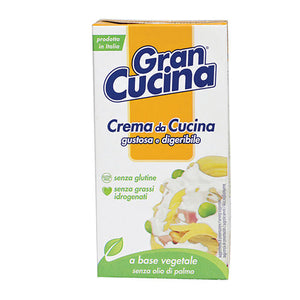 Hulala Gran Cucina Cooking Cream 500 ml pack
Plant-based cooking cream without hydrogenated fats
Gran Cucina is ideal for the preparation of sauces, used to add a delicate and tasty touch to dishes. Made from sunflower oil, it does not contain preservatives and hydrogenated fats to satisfy the needs of even the most health-conscious consumer.
Gran Cucina is the ideal product to enhance the taste of recipes that require a creamy dressing: use it to flavor your first courses or to make main courses velvety and smooth
INGREDIENTS:


WATER, SUNFLOWER OIL (17%), SWEET BUTTERMILK POWDER, MODIFIED CORN STARCH, MALTO-DEXSTRINS, STABILIZERS: GUAR GUM, LOCUST BEAN GUM, EMULSIFIER: SOY LECITHIN, NATURAL FLAVOR.