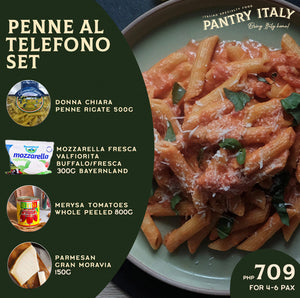 Make your new signature dish. This creamy mozzarella tomato-based pasta has curled stringy strands of mozzarella like a telephone cord, hence its name. This recipe makes sure you get that stringy cheesy goodness up a notch. Perfect to pair with steaks, salmon, and other meats. 
We have to kits containing the following ingredients:
Served 4 to 6 pax:
Donna Chiara Penne Rigate 500g
Mozzarella Buffalo Fresca 300g
Merysa or La Corvinia Tomatoes whole peeled 800g (or 2 400g) 

Italian 

Parmesan 150g 
Our kit includes traditional, natural Italian pasta made of durum wheat, fresh Buffalo premium mozzarella, juicy Italian tomatoes, and Italian parmesan. We'll send you a recipe when you order.  Nail your first time with the recipe using premium, authentic Italian ingredients. Bring Italy home.