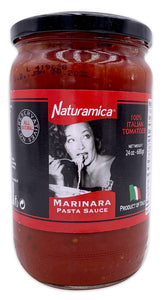 Fresh Authentic Ingredients: Naturamica uses only the finest ingredients to bring you the taste of Italy in your kitchen. Containing 100% Italian tomates, olive oil and nothing but pure authentic Italian ingredients.

Superior Flavor: Our sauces are crafted by expert cooks from southern Italy. By using the best raw ingredients and time tested cooking techniques we create rich, yet delicate flavors that you and your family will love.

Ready Made: No need to fly to Italy, or make sauce from scratch to taste the authentic flavors of traditional Italian pasta sauce. Our sauces blend all the finest ingredients in Italy into a savory, easy to serve pasta sauce. Heat, serve, enjoy!

All Natural: No preservatives! Our ingredient list is pure and you can pronounce every ingredient we use. Don't believe us, go ahead and check our label. Authentic, fresh ingredients, to create a rich & savory pasta sauce.

Bottled in Italy: Fresh Italian ingredients are packed into this jar straight from Italy. The next stop...your front door!
Ingredients
:
Tomato Pulp, Tomato Paste, Olive Oil, Salt, Garlic, Basil, Oregano, Black Pepper
Directions
:
Heat, Serve & Enjoy!