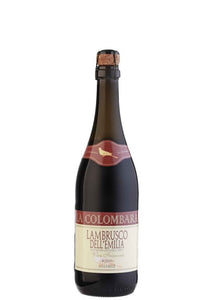 La Colombara Lambrusco Emilia Rosso Amabile 750ml bottle
Traditional red wine vinification, with maceration of the must on leaves in order to extract colour and tannins.
- Red with purple highlights.
- In the nose fragrant sensations of small and fresh red fruits, such as raspberries, blackberries and black currant and reminiscent of white pepper, cloves and cinnamons, pleasant herby notes.
- A young and fresh wine, medium-body, dry and slightly herby, with a good acidity. It leaves a nice after taste of small red fruits and wild berries.
- Ideal with pasta with meat sauces, succulent red meat dishes, roast and cold cuts of the local tradition.