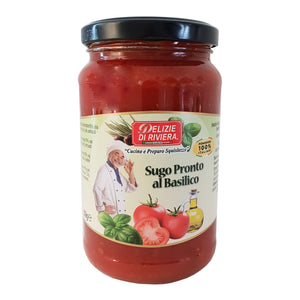 Prontidee Sugo Al Basilico 350g Jar
Blends Italian tomatoes with fresh basil. All-natural, gluten-free. Perfect for pasta dishes with basil tomato sauce.
Delizie Di Riviera
Pre-ordered items mean, your orders shall be delivered after 2 days instead of the next day if you ordered within the cut-off. Do let us know if you need it earlier.
INGREDIENTS:
TOMATO PULP 88%, TOMATO PASTE, OLIVE OIL 1%, ONION 1%, BASIL 0.8%, SALT, SUGAR, WHITE PEPPER.