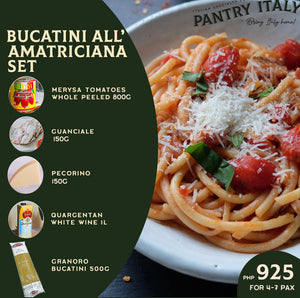 Make your new signature dish. This traditional tomato-based pasta is from Amatrice in Lazio, central Italy. It's traditionally made with Guanciale (cured pork cheek/ Italian bacon), Pecorino (Sheep's milk cheese), and Bucatini pasta, a thick spaghetti with a hole through the centre to soak up all that sauce. The kit comes in two sizes with the following ingredients:
Serves 4 to 7 pax:

Merysa Whole Peeled Tomatoes 800g or 2 400g

Guanciale 150g

Pecorino 150g

Quargentan White Wine 1L


Granoro Bucatini 500g
Cook up this spicy, meaty pasta using traditional, natural Italian pasta made of durum wheat, Italian tomatoes, premium Buffalo Mozzarella, and white cooking wine. The cooking wine will last many recipes. We'll send a recipe when you order. Nail your first time with the recipe using premium, authentic Italian ingredients. Bring Italy home.