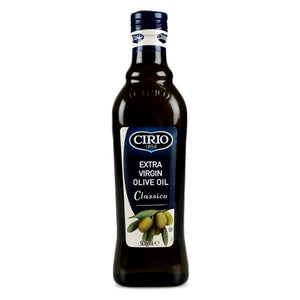 CHARACTERISTICS: Made from some of the best olive crops in the Mediterranean Basin, this oil is selected by Cirio for their particular characteristics, such as taste, delicate perfume, low acidity level (maximum 0.4%) and full body. It is a full and robust extra virgin oil, best used as it is.
TASTE: Full bodied with a pungent aftertaste
FRAGRANCE: Delicately fruity
IDEAL USE: As a condiment as it is for vegetables, meat, fish and other recipes that require a delicate dressing.